Hex Sign Pendulum Board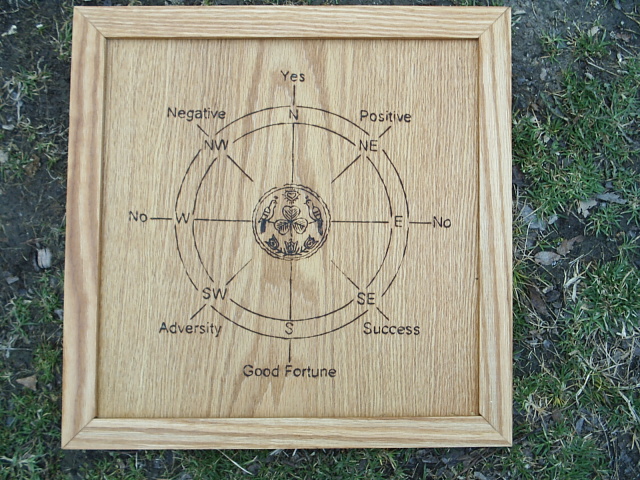 Good Fortune Hex Sign Pendulum Chart
$69.99
Centered on the Hex Sign Pendulum Board is a very popular Dutch Irish hex sign symbol. It features a large, green shamrock, the traditional good luck sign of the Irish, as the design's center or heart. A pair of Irish Distelfink birds shower the shamrock with a "double measure" of happiness and good fortune. Trinity tulips add faith, hope and charity; the decorative heart is overflowing with love for all. Around the outter edge scallops signify the ocean, a symbol for smooth sailing in all you do. So the hex symbol in the center can even be used in your pendulum reading, if you find your pendulum coming to rest on any symbol within the hex sign.
The standard Yes, No, Positive, Negative, dicotomies allow for specific responses, while the good luck, adversity and success may allow responses of variance. For those who use pendulums as mapping tools, or to locate something lost directional markers are included.


These handcrafted divination pendulum boards are constucted with solid wood framing and built to last a lifetime. Design and text are wood burned deeply by hand. All wood and design work is handcrafted by DragonOak.


The American Heritage® Dictionary of the English Language describes hex signs as: Any of various painted round signs incorporating designs, such as stylized stars, rosettes, or wheels, thought to be magical. These hex signs were painted on barns, especially by the Pennsylvania Dutch, to ward off misfortune or evil spells. Many of the hex sign symbols refer to the use of a hex sign to bring good luck thus having a charm or magic quality. There is an ongoing debate that these symbols might be used purely for decorative purposes.


Pennsyvania Dutch Hex Signs and their generally accepted meanings:

Crescent Moons: the four seasons
Distelfink: good luck and happiness
Two distelfinks: double good luck and happiness
Two distelfinks crossed over each other: true friendship
The distelfink's (German: goldfinch) origin is a debated subject. Some believe
it is simply a mythological bird that symbolizes good luck while others believe it
represents a goldfinch, or thistle finch. In hex signs it is distinguishable from
other bird symbols by the plume of feathers on top of its head (obviously a stylized
version of the goldfinch).
Doves or Birds of Paradise: friendship, camaraderie, peace, purity and happiness
Eagle: strength, courage, clarity of vision
Heart: friendship, camaraderie, peace, purity and happiness
Oak Leaf: long life, strength and endurance
Pineapple: welcome and hospitality
Rosettes: (thought to be the oldest symbol) good luck
Scallops: ocean waves, smooth sailing in life
Stars: protection against fires, good fortune, hope, love, fertility, energy and harmony.
Sun Wheel: warmth and fertility
Tulips: faith, hope, charity and trust in mankind
Wheat: abundance and goodwill