Drakkar Viking Warrior
Fantasy Box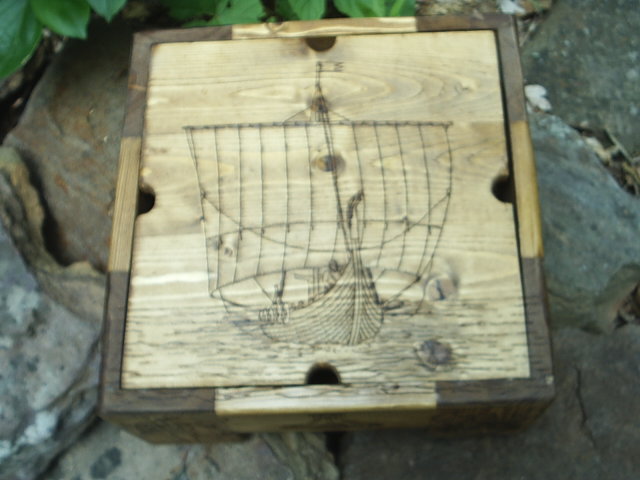 Viking Fantasy Box!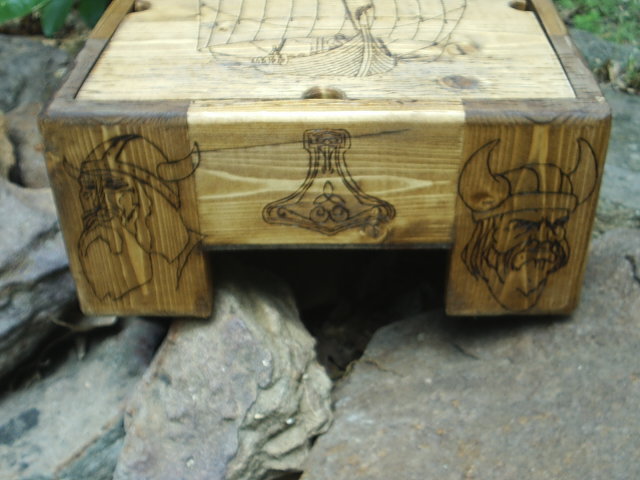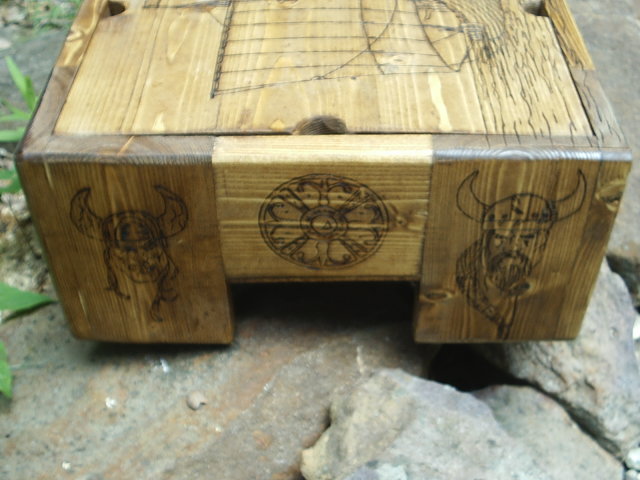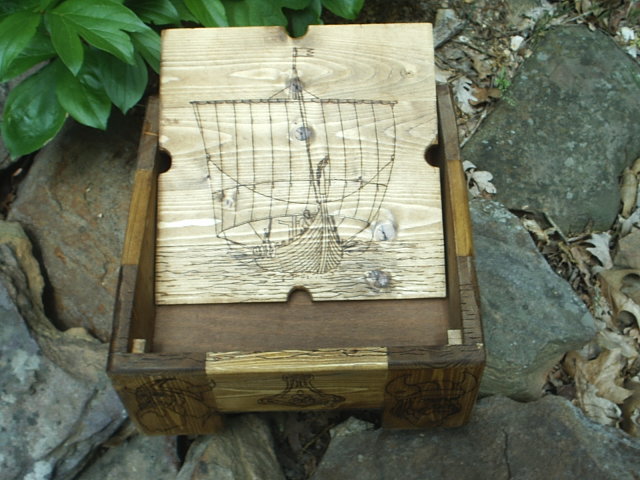 Viking ship on box top is wood burned by hand for everlasting beauty.
Measure 13" X 13" X 6" tall and is made from solid wood. This is a hand crafted fantasy box that will last for generations, similar to items we found in grandma's attic.
Four different warriors, shield, and hammer of Thor adorn the sides of this fantasy box. This fantasy box has plenty of storage space for collectibles, personal items, etc. .
No metal is used in constructing this fantasy box, as some believe that metal can interfere with the flow of energies.
This fantsy box is hand crafted by DragonOak, "one who walks the pagan path". DragonOak has studied methods of divination for over 20 years and now brings forth handcrafted items that are fitting for the field of divination. Based on the Norseman Nordic peoples of the North.
Natural stains and finishes are used to protect the wood and highlight the beauty of maple.
Viking Ships
Terror of Medieval Europe
The dragon-headed ship or drekar as it was called, was a troop-carrier, capable of crossing the open ocean under its wide square sails, and switch to oars for fast hit and run attacks on unsuspecting towns. These ships were known for their lightness and efficiency, from Northern England to the north of Africa, during the Viking Age (800-1100 A.D.).
The Vikings ability in naval craftsmanship, led them also to build other types of ships. One of which was called the knar, or ocean cargo vessel, which allowed them to make long ocean voyages and facilitated trade. This lead to the colonization of Iceland, Greenland, and America. The knar was of a similar design to the drekar in relation to length and style, but was higher and wider, with less oars. Cargo decks were installed to accommodate supplies and bounty.
The best preserved of the Viking fleets, the Osenberg ship, was discovered in Norway in 1906. This ship reveals the shipbuilders construction style to be much different than conventional methods of ship building at the time. The builders using a broad ax instead of a saw, cut long thin oak planks and fastened them together with iron nails to a single keel, then to one another, creating an overlap with each one, instead of building an inner skeleton for the hull. The lack of a big vertical keel made the longships more maneuverable and allowed them to penetrate shallow water and river entrances. The sleek ships were light and economical to build.